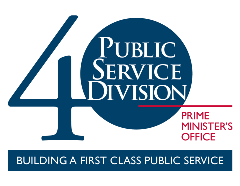 In 2023, the Public Service Division celebrates our 40th anniversary. Since our inception, our work has been guided by our mission of building a first-class Public Service, so that we can contribute to building a successful and vibrant Singapore.
Our History
1983

The Public Service Division (PSD) was founded as a unit under Ministry of Finance (MOF) on 3 January, handling personnel matters for the Civil Service. The late Mr Sim Kee Boon was appointed as Permanent Secretary, Finance and PSD. Our first office was in the Central Provident Fund Building.



1984

The Social Development Unit was formed in PSD to promote marriages among couples with tertiary education.

The late Dr Andrew Chew became Permanent Secretary, Finance and Public Service.



1987

PSD moved to Temasek Tower (then the Treasury) in the financial district of Shenton Way.



1990

Mr Lee Hsien Loong, then Minister for Trade and Industry was appointed Deputy Prime Minister for economic and civil service matters.



1993

The Civil Service College was established to develop programmes in policy, governance and leadership development for senior officers.



1994

PSD was transferred from the Ministry Of Finance to the Prime Minister's Office.

The Public Service Commission Secretariat was integrated with PSD.

Mr Lim Siong Guan became Permanent Secretary, Prime Minister's Office.




1995

Public Service for the 21st Century (PS21) was launched, a change movement to encourage public officers to embrace change in their daily work and position the Public Service at the forefront of service excellence. The PS21 Office was established to support the PS21 movement.

The Scenario Planning Office moved from the Ministry of Defence to PSD, with the aim to shape a forward-looking Civil Service that thinks critically about Singapore's future, questions assumptions and anticipates change.



1996

Civil Service College established to develop programmes for public officers.



1997

PSD's mission statement, "To build a first-class Public Service for a successful and vibrant Singapore" was launched by Permanent Secretary, PMO Mr Lim Siong Guan.

The Personnel Policy Department were set up, with the aim to position the Civil Service as a progressive employer, through shaping our human resource philosophy, policies and frameworks, and providing effective HR management and development tools.



1998

Mr Eddie Teo was appointed Permanent Secretary, PMO.

The Social Development Unit was moved to the Ministry of Community Development, Youth and Sports.



1999

Launch of PSD Core Values: "People, our Pride; Service, our Pledge; Integrity, our Core."

Managing for Excellence framework was jointly developed with MOF, to sustain excellence across the entire Public Service. This includes Quality Service Management.




2001

Civil Service College was restructured as a Statutory Board under the purview of PSD.



2003

Minister Teo Chee Hean was appointed the Minister-in-charge of the Civil Service.

Scenario Planning Office was renamed the Strategic Policy Office.



2005

Ms Lim Soo Hoon was appointed the first Permanent Secretary, PSD.



2008

The first Public Service Week was held to recognise the good work done by public officers, as well as forge a sense of pride in being part of the Public Service.



2012

Ms Yong Ying-I was appointed Permanent Secretary, PSD.

Public sector re-employment scheme takes effect, allowing older officers to remain economically productive and be meaningfully engaged in their golden years while continuing to contribute to the Service with their wealth of institutional knowledge and experience.



2013

The Public Service Leadership Programme (PSLP) is launched, to develop officers with specialist skills in the five sectors (economy building, infrastructure and environment, security, social and central administration) for leadership with deep domain knowledge in the Singapore Public Service.

PS21 Office was restructured and expanded to build organisational development, design thinking as well as internal and public engagement capabilities, in order to address heightened citizen demands and facilitate more customer-centric solutions. This includes the incubation of the Municipal Services Office.



2014

The Engineering Programme Office was formed to support the strategic workforce planning, rebuilding of Public Service engineering capabilities, and strengthen the branding of the Engineering career at the whole of government (WOG) level.

More schemes of service was merged to allow junior officers who perform well and are assessed to be ready to take on larger responsibilities can expect faster career progression.



2015

PSD's refreshed Vision and Mission and Strategic Thrusts was launched.

Strategic Planning Office was transferred out of PSD to PMO's Strategy Group.

PSD led the Public Service in implementing enhanced paternity leave, which allows male public officers to be eligible for two weeks of paternity leave instead of one week.


2017

PSD reorganised and assigned new designations to more closely reflect our evolving role:
- Deputy Secretary (Policy) re-designated as Deputy Secretary (Workforce)
- Deputy Secretary (Development) re-designated as Deputy Secretary (Transformation);
- PSD restructured our organisation in line with our mission which centres around Strong Leadership, Engaged Officers, and Future-Ready Organisations with Good Governance.



2018

Unpaid Leave for Unexpected Care Needs was introduced where officers may take unpaid leave if they need to care for immediate family members who are hospitalised or a young child with medical conditions.

PSD incubated on a citizen-centric, integrated service delivery model, including Moments of Life, MyLegacy and the pilot Public Service Centre at Our Tampines Hub.

The Public Sector Talent Attachment Programme was launched, with the aim of developing public officers with the potential to take on leadership positions, through attachments to the private or people sectors.



2019

Mr Loh Khum Yean was appointed Permanent Secretary, PSD.



2020

New workstreams arose due to the COVID-19 pandemic. These include:
- The Public Sector SGUnited Jobs and Traineeships, where jobs and training opportunities were created to meet the needs of the public sector as well as provide meaningful jobs for jobseekers
- "Lift and Shift" programme to facilitate placement of workers from private sector hard-hit by the pandemic (e.g. aviation and hospitality companies)
- Set up and managed volunteers for the national call centres, to address citizens' concerns during mask collection period and to support MOH's Emergency Hotline

Public Service Career Coaching Network is launched to provide public officers with a trained coach to support and guide them through their career development aspirations.



2021

Ms Teoh Zsin Woon was appointed Second Permanent Secretary, PSD.

Public Service Centre pilot rebranded to ServiceSG, providing citizens with over various government services under one roof.



2022

CoWork@Gov, a network of exclusive co-working spaces for public officers, was launched with 13 locations and shared spaces across Singapore, to support flexible and secure working arrangements for public officers.